Spring is finally here and I don't know about you, but after months and months and months of snow and freezing temperatures and more snow, I'm craving bright colors everywhere. (Added bonus: Scientists say bright colors can positively affect your mood.)
Here are 5 inexpensive and really fun ways to blast your world with colors and celebrate spring:
1. Treat yourself to a bouquet of bright flowers. I love monochromatic bouquets of tulips -- hot pink or red -- or daffodils, whose bright yellow screams: "Spring is HERE!"
2. Choose a bright new mug for your favorite beverage. Add color to the parts of your life you encounter most often -- like drinking your daily coffee or tea. I usually find my favorites at Anthropologie, and I think this one is full of joy.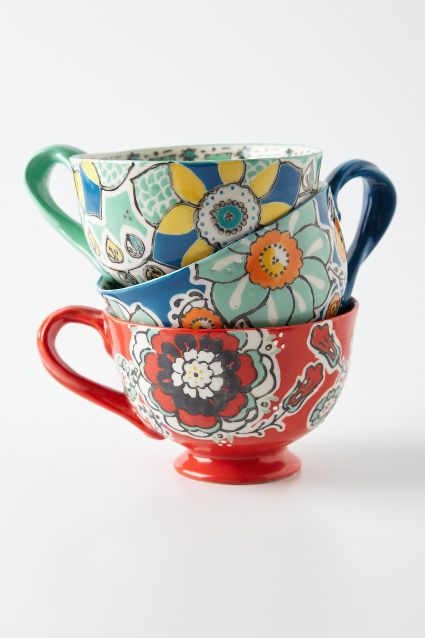 3. Try out a new shade of nail polish. This spring I'm into trying out a bunch of shades of pink. This "Hotter Than You Pink" by OPI is bright, happy, and makes me smile as I type tons of emails all day.
4. Grab a few colorful pens. Give your blues and blacks a break and try out some new colorful inks for your notes. This Fiskars set of 48 pens will make you feel like a kid with a brand new box of Crayons.
5. Outfit your feet in color. Colorful socks are one of the easiest -- and less risky ways, if color is not really your thing -- to add some brightness to your wardrobe. And yes, Happy Socks are my absolute favorite (I've gotten my husband addicted to them before I started my own collection).