Happier is a happiness company.
Yep, you read that right. We created Happier with one mission in mind: to help you be happier in your everyday life.
We're inspired by research that shows focusing on the positive and sharing good things with people you care about makes you happier, healthier, and less stressed. (Check it out if you're curious.)
Our first product is fun social gratitude journal combined with a positive community. Be encouraged to keep track of the happy moments in your day and get an uplifting boost whenever you need one.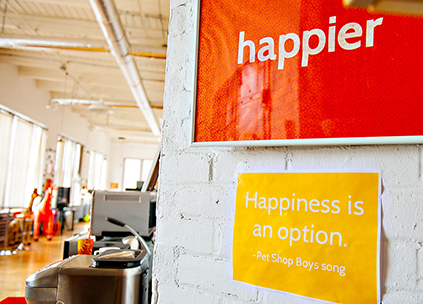 Life is made of moments. Choose to create and collect the happy ones.
Call us optimists, but we think it's possible to find happy moments in every single day, including those "I want to hide under the covers everything is going wrong" days. And that's because your happy moments can be tiny — from eating something you enjoy for breakfast to catching the train just as it pulls in, getting an email from a friend or a hug from your kids.
(In fact, research shows that being grateful for these tiny moments makes you a lot happier than focusing on big life achievements or events.)
What our users say (while we blush)...
I didn't realize how nice it would feel to remind myself every day how lucky I am. From big moments to the minute everyday gem that makes me smile, it's great to have a tool to encourage me to reflect on those positives.
~~ AhannonC
I love, love, love this! It is amazing how one's perspective on life can improve by sharing happy thoughts with friends all over the world. I am beginning to use it more than Facebook because nobody whines, and we are able to share happy times without feeling like we are humblebragging. :)
~~ Buckhead mom
Love this app! So tired of hearing everyone complain about the trivial things in life. It's much better to hear about the trivial happy moments!!!
~~ Darcimi
I love this Happier! It really does make me appreciate the small things in life and help me to realize I can be happy even on a bad day. There is joy in everything.
~~ Kyky1423
I am overwhelmed every day when I go on Happier. No seriously, happy tears are brought to my eyes by complete strangers! I can say that personally having this outlet for posts, pictures, memories, and love for my hometown has been therapeutic.
~~ Kate W.
We're bombarded by negativity all day every day. Happier helps me to stop and savor the little things that make life so wonderful.
~~ Nic Beaty
What we believe about being happier