More Calm, Less Stress
with Dave Romanelli
7 Meditations designed to restore balance to busy lives
About the course
Most of us are so busy juggling work and family and everything else that we're left feeling like life is a constant game of catch-up, where once we hit a certain milestone or complete a particular task, things will even out. In reality, life shifts and changes too quickly for us to rely on external changes to impart some mythical balance. A lasting sense of balance can only come from within.
More Calm, Less Stress was designed with today's relentless "do it all" lifestyle in mind. If you're "too busy" to meditate, consider that you may be too busy not to meditate -- science proves that just a few minutes a day can deliver real, lasting health benefits (such as lowered blood pressure and better quality sleep), as well as improving your mood and heightening overall well-being.
Each day of this week-long course shares information and tips about changing your approach to difficult life situations, followed by a themed meditation by Dave "Yeah Dave" Romanelli (enhanced with some soothing music tracks by Grant Cutler). Get ready to enjoy your daily meditation break, as well as to discover the ways in which those few precious minutes of calm will start spilling over into the rest of your day, yielding a calmer, happier you!
Why take this course?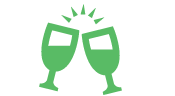 Relax and unwind
Just a few minutes each day is enough of a break to soothe your mind and catch your breath, with the proper guidance. No matter how busy you are, these are breaks you can fit into your life.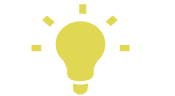 Stress-busting takeaways
The themes and suggestions shared during your daily meditations include practical measures you can turn to in your everyday life to reduce stress and boost happiness.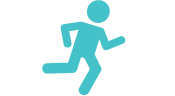 Feel more resilient
Research shows that people who utilize meditation to manage their stress -- even for just a few minutes a day -- build overall resilience in coping with life challenges.
Why we created this course
"My own experience as a person who was certain meditation was 'not for me' continues to compel me to find different ways to make meditation accessible for everyone. It truly is one of those 'you have to try it to get it' sorts of things. Meditation isn't just for those who are naturally calm; Dave and I are living proof that meditation is an incredible tool for enhancing your ability to relax, focus, and be present in the moment for even the most scattered or stressed out people!
We created More Calm, Less Stress because overwhelm has become the default life setting for so many of us. Feeling pulled in a hundred directions at once is something I struggle with, myself, and I've learned that a meditation practice focused on tapping into inner calm and resilience is the perfect antidote to an overpacked schedule.
My hope is that this course helps you begin or enhance a daily meditation practice, one which can seamlessly integrate into your busy life, and helps you find a greater sense of calm, balance, and happiness."
-- Nataly Kogan, co-founder and CEO of Happier
How does the course work?
Over the next 7 days, More Calm, Less Stress will take you through daily explorations of remaining relaxed and centered no matter what life throws your way. Life is mandatory; stress is optional.

Daily Reminders.
Every morning we'll send you a brief reminder to check in on Happier to review that day's theme and content prior to listening to the day's meditation. While the topics are ones we think all stretched-to-the-limit folks will find useful and relevant, we've kept it brief and fun (you don't have time for anything else).
Daily Inspiring Meditations.
Dave's meditation style is both relaxing and energizing, profound but also humorous. It's a mini-vacation with a fun companion, squeezed into a daily break… but don't be surprised to discover you're learning important coping strategies along the way.
Daily Practice.
Along with our daily themes, each More Calm, Less Stress lesson includes a prompt to take notice of either new or existing ways in which you've been able to utilize that day's tool(s) to stay positive in the face of difficulty.
7 Days of Original Content.
All lesson materials in More Calm, Less Stress were developed specifically for this course, with today's frazzled lifestyle in mind. The tips and inspiration shared here are brief but edifying, and the daily meditations are short enough to fit into even a packed schedule, but long enough to help you start making real changes in your life.
More about Dave Romanelli
David 'Yeah Dave' Romanelli believes wellness and feeling good is much more than fancy yoga poses, green juice, and tight-fitting clothes. He co-founded One Yoga, one of the first yoga studios to mix music, technology, and fashion with ancient wellness practices, and created Yoga + Chocolate, Yoga + Wine, and Yoga for Foodies. Now focused on making meditation accessible to everyone, Dave has launched MeditateON, a series of hilarious and inspiring guided meditations that feel like inner vacations.
Yeah Dave's Guide to Livin' the Moment (Broadway Books) reached #1 on the Amazon Self-Help Bestseller List, and Happy Is The New Healthy: 26 Ways to Celebrate Life NOW! will be published in October, 2014. He has been featured in The Wall Street Journal, Food + Wine, Newsweek, and The New York Times, and is a contributor to Health Magazine, Yoga Journal, and other publications.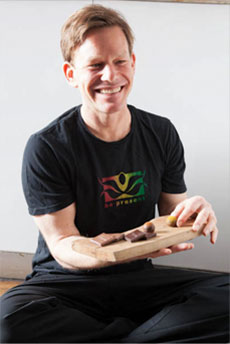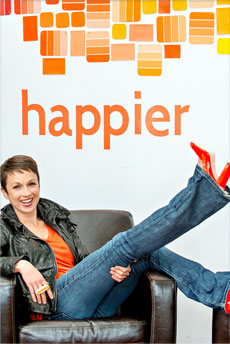 About Nataly and Happier...
Nataly Kogan is the founder and CEO of Happier, a life appreciation platform to help you live life more awesome. Happier's mobile app has been used by hundreds of thousands of people to become happier, less stressed, and more optimistic. Nataly has been featured in the New York Times, Fortune, New York Magazine, Time, and many others and is a sought out speaker and expert on happiness.
Nataly immigrated to the US with her family when she was 13 years old and learned firsthand that it's possible to find small happy moments in even the most difficult of circumstances. She created Happier to help inspire millions of people to stop saying "I'll be happy when…" and start saying "I am happier now because."