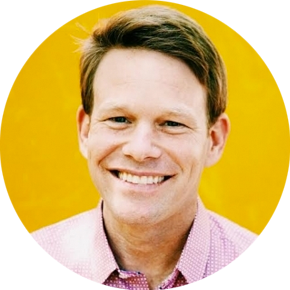 Meditation Vacation
with Dave Romanelli
Take a 7-day Meditation Vacation and learn a simple daily meditation practice that will make you feel more relaxed, positive, and present every moment of every day.
About the course
Dave and Happier joined forces to create this 7-day guided journey that will teach you to soothe your mind, embrace or enhance a meditation practice, and have a BLAST in the process.
The beauty of a "guided meditation" is it fits perfectly into your schedule. Simply press play, listen, and relax. You don't need to go to meditation class or have a meditation teacher in your presence. Whenever you can find 5 minutes in your day you can have an awesome meditation practice!
Why take this course?

Feel less stress and anxiety
Research shows that taking time to sit and breathe lowers stress, helps reduce insomnia, and improves overall health.

Sleep better
Meditation slows down your heart rate and breathing and improves blood flow, all of which helps you sleep longer and better.

Focus better and get more done
Meditation helps you focus better by training your brain to become better at filtering out any unnecessary information.
Why we created this course
"I kept hearing about benefits of meditation and how it can help us feel more positive and less stressed out, but I just never thought I could find enough time or sit still for long enough.. When I met Dave and heard about his philosophy, we decided to develop meditation course for Happier that would be fun, simple, and can fit into anyones busy schedule. Taking a Meditation Vacation taught me new ways to focus and breathe and has absolutely inspired me to make a few minutes of meditation part of my daily (still busy but happier:) life."
How does the course work?
Over the next 7 days, you'll learn how to meditate in a way that is relaxing, easy, and super fun! Here's how it will work:

Daily reminders.
We'll send you a push notification every morning to let you know that your guided meditation is ready. (We've found it's easier to build a habit if we remind you.)
Daily guided audio meditation.
Dave will guide you through a short, sweet 5-10 minute meditation set to soothing musicscapes. These are not stereotypical meditations taught by monks in loincloths eating seeds on faraway mountaintops. And hey, there's nothing wrong with faraway mountaintops. But most of us don't have time to go faraway, so we are taking a more fun approach to meditation.
Inspiring videos.
Maybe you can't come visit Dave's yoga studio but our short, original videos will help you feel like he is right there with you, offering advice, inspiration, and tons of ideas for how you can make a few minutes of meditation a part of your daily life.
7 days of original content.
Daily tips, advice, quotes, and stories that will keep you mindful and motivated to make meditation part of your everyday life even after your Meditation Vacation is over.
More about Dave Romanelli
David "Yeah Dave" Romanelli believes wellness and feeling good is much more than fancy yoga poses, green juice, and tight-fitting clothes. He co-founded At One Yoga, one of the first yoga studios to mix music, technology, and fashion with ancient wellness practices, and created Yoga + Chocolate, Yoga + Wine, and Yoga for Foodies. Now focused on making meditation accessible to everyone, Dave has launched MeditateON, a series of hilarious and inspiring guided meditations that feel like inner vacations.
Yeah Dave's Guide to Livin' the Moment (Broadway Books) reached #1 on the Amazon Self-Help Bestseller List, and Happy Is The New Healthy: 26 Ways to Celebrate Life NOW! will be published in October, 2014. He has been featured in The Wall Street Journal, Food + Wine, Newsweek, and The New York Times, and is a contributor to Health Magazine, Yoga Journal, and other publications. To learn more about Dave, check out www.yeahdave.com.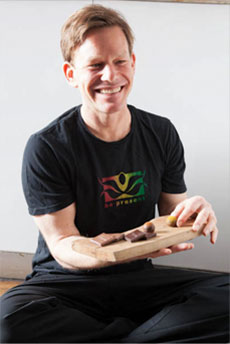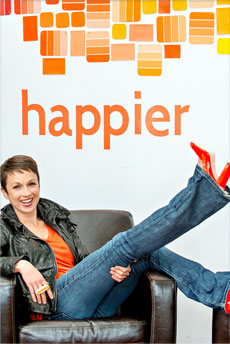 About Nataly and Happier...
Nataly Kogan is the founder and CEO of Happier, a life appreciation platform to help you live life more awesome. Happier's mobile app has been used by hundreds of thousands of people to become happier, less stressed, and more optimistic. Nataly has been featured in the New York Times, Fortune, New York Magazine, Time, and many others and is a sought out speaker and expert on happiness.
Nataly immigrated to the US with her family when she was 13 years old and learned firsthand that it's possible to find small happy moments in even the most difficult of circumstances. She created Happier to help inspire millions of people to stop saying "I'll be happy when…" and start saying "I am happier now because."