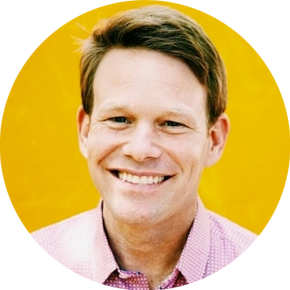 Get Your Move On
with Dave Romanelli
Get moving and calm your mind as you reap the many health and happiness benefits of a daily walk outdoors along with a week of inspiring and engaging guided meditations.
About the course
Get Your Move On combines walking and meditation, two habits which have been scientifically proven to help you be healthier and happier when practiced regularly.
This course will inspire you to make walking part of your routine, encourage you make your walks both fun and relaxing, and help you calm your mind and catch your breath.
Whether you already walk often or not, whether you've tried meditation and loved it or aren't sure if it's for you, this course is an awesome opportunity to combine both in a new, unique way.
Each day of this week-long course has a theme and an accompanying walking meditation provided by Dave 'Yeah Dave' Romanelli (and some great music tracks by Grant Cutler).
If you think meditation is something to be done with your eyes closed while sitting in a dark room, think again. Strap on your shoes, grab your phone, and set off each day on a 20-minute guided walk that will energize, focus, and inspire you.
Why take this course?

Form a daily walking habit
Often described as 'the perfect exercise,' studies have shown a daily 20-minute walk to have multiple happiness-boosting health benefits, including improved stamina and a stronger immune system.

Boost energy
Need a natural energizer? A brisk walk boosts circulation and increases oxygen supply to the entire body, resulting in helping you feel more alert and less stressed.

Slow down
In a fast-paced, multitasking world, we can all benefit from taking some time to just focus on ourselves, the world around us, and being in the moment.
Why we created this course
A few years ago I started going on a daily walk every morning. It's one of my favorite things to do and it's the time every single day that I take just for myself. It's like an anchor and something that helps me feel more focused, energized, and up for whatever comes my way.
We created Get Your Move On because I wanted to inspire others to make walking part of their life and reap the awesome benefits it brings. Working with Dave Romanelli, we came up with an idea to add guided meditations to help every walk be even more enriching. I have a hard time meditating while sitting still, but when I'm moving, I find that my mind focuses better.
Walking and meditating are really good for you, but many of us are busy and find it difficult to find time for either one. I hope this course helps you make these awesome habits part of your life and encourages you find more of those tiny small moments that truly make us happier!
How does the course work?
Over the next 7 days, Get Your Move On will encourage you to get outside and take a break every single day to energize and center yourself no matter what else is going on in your life. Healthy body + healthy mind = happier you!

Daily reminders.
Every morning we'll send you a brief reminder to check in on Happier to review that day's theme and content before your walk. We've tried to make each day something you'll look forward to experiencing, so it never feels like a chore.
Daily Inspiring Meditations
Dave's meditations are less 'find your inner Dalai Lama' and more like walking along with an old friend who tells you funny and encouraging stories, or helps you to notice wonderful things along the way. Oh, and there's great music, too!
Daily Challenges
Along with our daily themes, each Get Your Move On lesson includes a challenge for you to complete on each day's walk. (Don't worry; we're not talking Herculean tasks, just easy, fun actions we think you'll enjoy and that will help you focus on discovering your own joy on these journeys.)
7 Days of Original Content
All lesson materials in Get Your Move On were developed specifically for this course. We'll share tips, stories, a bit of research, and a lot of encouragement and inspiration (including two original videos featuring Happier's founder and CEO, Nataly, whose daily walking habit inspired this course).
More about Dave Romanelli
David 'Yeah Dave' Romanelli believes wellness and feeling good is much more than fancy yoga poses, green juice, and tight-fitting clothes.
He co-founded One Yoga, one of the first yoga studios to mix music, technology, and fashion with ancient wellness practices, and created Yoga + Chocolate, Yoga + Wine, and Yoga for Foodies. Now focused on making meditation accessible to everyone, Dave has launched MeditateON, a series of hilarious and inspiring guided meditations that feel like inner vacations.
Yeah Dave's Guide to Livin' the Moment (Broadway Books) reached #1 on the Amazon Self-Help Bestseller List, and Happy Is The New Healthy: 26 Ways to Celebrate Life NOW! will be published in October, 2014. He has been featured in The Wall Street Journal, Food + Wine, Newsweek, and The New York Times, and is a contributor to Health Magazine, Yoga Journal, and other publications.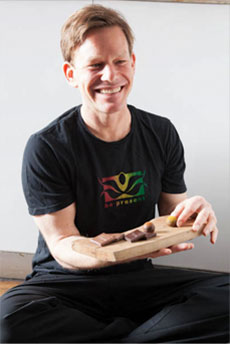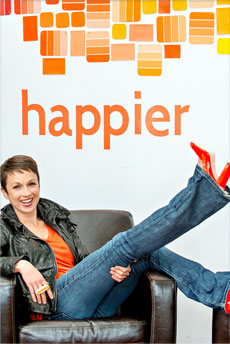 About Nataly and Happier...
Nataly Kogan is the founder and CEO of Happier, a life appreciation platform to help you live life more awesome. Happier's mobile app has been used by hundreds of thousands of people to become happier, less stressed, and more optimistic. Nataly has been featured in the New York Times, Fortune, New York Magazine, Time, and many others and is a sought out speaker and expert on happiness.
Nataly immigrated to the US with her family when she was 13 years old and learned firsthand that it's possible to find small happy moments in even the most difficult of circumstances. She created Happier to help inspire millions of people to stop saying "I'll be happy when…" and start saying "I am happier now because."