Sleep Deep & Dream Sweet
with Dave Romanelli
Whether you don't sleep enough or don't sleep well, this week of guided nighttime meditations will quiet overactive and/or anxious brains to prepare you for better quality sleep (which, in turn, leads to happier waking hours).
About the course
Meditate: Sleep Deep & Dream Sweet tackles what is perhaps the most pervasive health issue for busy people in the modern world: We simply don't get enough sleep. It's become something of a perverse badge of honor in our society to skip sleep to keep "doing," but the reality is that sleep deprivation makes us unhealthy and unhappy.
Remember when you were little, and your parents would read to you before bed? Once again we've enlisted the inspiring yet entertaining and quirky meditation stylings of Dave "Yeah Dave" Romanelli (along with background music by Grant Cutler) to make meditation accessible to all… and this time, it's like going back to that relaxing ritual of hearing a bedtime story.
Each day of this week-long series shares some information about good "sleep hygiene" and a themed meditation created around an inspiring tale. While the meditation will help you relax and unwind and drift off to sleep, the lessons within are designed to integrate into your waking life, as well -- yielding a calmer, happier, more resilient you.
Why take this course?

Ditch the insomnia
Meditation is scientifically proven to help you fall asleep sooner, as well as decreasing wakefulness throughout the night.

Reap multiple health benefits
Sleep deprivation is linked to health risks ranging from depression and obesity to hypertension and even increased instances of cancer. Restoring regular, restful sleep to your life may be the best thing you can do for your health.

Increase productivity
Science shows that people who are sleep deprived are more apt to lose focus during the day (and take longer to recover it), impacting overall productivity. Sleep better, work better!
Why we created this course
As a busy entrepreneur and mom, I know from personal experience that sleep can fall pretty far down my priority list in the interest of 'getting more done' if I'm not careful. The paradox, of course, is that when my sleep suffers, so does everything else -- I'm more scattered, less calm, and more prone to getting sick (and I don't have time to be sick!). But even when I vow to sleep better, sometimes it's hard to just quiet my brain and get the rest I need.
Meditate: Sleep Deep & Dream Sweet was created to tackle this common issue of sleep difficulty related to what I like to call 'brain chatter.' Meditation can slow down and focus our thoughts at any time, of course, but creating a series specifically for use at bedtime was an interesting challenge. Dave has once again found a way to engage meditators of all experience levels, and this 'bedtime story' format is so relaxing, I think we'll make believers of even meditation skeptics.
One week to better sleep? We say absolutely yes. Isn't it time you discovered a simple way to feel more rested, healthier and happier?"
-- Nataly Kogan, co-founder and CEO of Happier
How does the course work?
Over the next 7 days, Meditate: Sleep Deep & Dream Sweet will train your brain to relax at bedtime, allowing you to fall asleep faster and sleep better. As the week progresses and your sleep improves, you'll find the benefits of that rest improving multiple aspects of your waking life, too.

Nightly Reminders.
Every evening we'll send you a brief reminder to check in on Happier to review that day's theme and content prior to your bedtime meditation. Think of this as nuggets of supportive information about why good sleep matters; there's nothing heavy or time-consuming, just reminders of why this is important.
Daily Inspiring Meditations.
Dave's meditation style is unique in that he manages to be inspiring and humorous, relaxing and invigorating. He's chosen stories with important messages, yes, but delivers them in such a way that you'll simply feel entertained, and relaxed.
Daily Reflection.
Along with our daily themes, each Sleep Deep & Dream Sweet lesson includes a prompt to reflect upon and share how the previous night's meditation and following sleep affected you. Noting what spoke to you and worked well helps you maintain that mindfulness.
7 Days of Original Content.
All lesson materials in Sleep Deep and Dream Sweet were developed specifically for this series, with restless sleepers in mind. Restful sleep is the very foundation of a healthy and happy lifestyle. Just a few minutes every evening can improve both your sleep and your outlook.
More about Dave Romanelli
David 'Yeah Dave' Romanelli believes wellness and feeling good is much more than fancy yoga poses, green juice, and tight-fitting clothes. He co-founded One Yoga, one of the first yoga studios to mix music, technology, and fashion with ancient wellness practices, and created Yoga + Chocolate, Yoga + Wine, and Yoga for Foodies. Now focused on making meditation accessible to everyone, Dave has launched MeditateON, a series of hilarious and inspiring guided meditations that feel like inner vacations.
Yeah Dave's Guide to Livin' the Moment (Broadway Books) reached #1 on the Amazon Self-Help Bestseller List, and Happy Is The New Healthy: 26 Ways to Celebrate Life NOW! will be published in October, 2014. He has been featured in The Wall Street Journal, Food + Wine, Newsweek, and The New York Times, and is a contributor to Health Magazine, Yoga Journal, and other publications.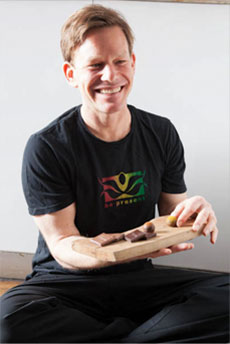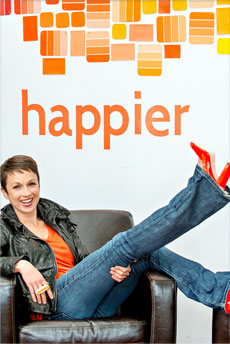 About Nataly and Happier...
Nataly Kogan is the founder and CEO of Happier, a life appreciation platform to help you live life more awesome. Happier's mobile app has been used by hundreds of thousands of people to become happier, less stressed, and more optimistic. Nataly has been featured in the New York Times, Fortune, New York Magazine, Time, and many others and is a sought out speaker and expert on happiness.
Nataly immigrated to the US with her family when she was 13 years old and learned firsthand that it's possible to find small happy moments in even the most difficult of circumstances. She created Happier to help inspire millions of people to stop saying "I'll be happy when…" and start saying "I am happier now because."