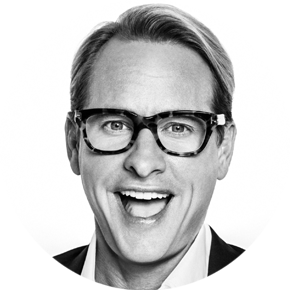 Confident Style
with Carson Kressley
Take a journey to Confidenceland; simple tips and tricks to polish your style and enhance your environment can help you be at your most put-together, poised best!
About the course
Nothing is more stylish than confidence, and it's easier to attain than you might think. Fashion guru Carson Kressley returns to Happier for his second course, ready to help everyone look and feel better. In one week you'll be guided through a variety of quick and simple ways to "tszuj" up your style, your environment, and your attitude. Confidence is for everyone; let Carson help you find yours.
Why take this course?

Make your closet work for you
Fashion is less about what you acquire and more about what you do with what you already have, but learning some basics makes this approach much easier.

Learn to do you, at your best
People who feel happy with themselves feel more in control of their lives. Using style as a tool in enhancing your confidence is a simple way to feel more comfortable in your own skin and happier overall.

Color your world
Your style affects your mood, and your mood can influence your style. The science behind how things like color influence us can help you determine how to make your style work for you and your life goals.
Why we created this course
"With Happier Makeover, we introduced Carson Kressley to our users as the fun and fabulous style guru he is, but with a soft, nurturing side that makes him ideal for coaching anyone towards greater self-love and acceptance. Now Confident Style is the perfect way to hone your signature look -- once you've started learning to love yourself, it's time to flaunt it! I love how Carson's approach is all about small changes that make a huge difference. Discovering your own confidence style has never before been so easy (and fun)."
-- Nataly
How does the course work?
Over the next week, boost your confidence a little more every day with...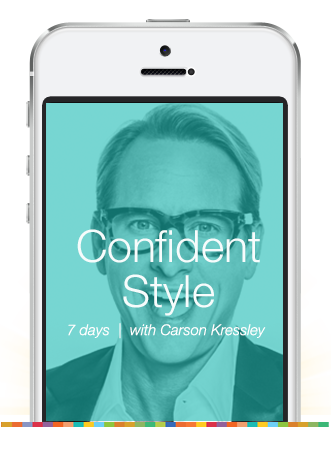 Daily Reminders.
Every morning we'll send you a brief reminder to check in on Happier to review Carson's video and lesson for the day (as if you could possibly forget)
Relatable Encouragement.
Carson is an entertainer, sure, but he's also a fashion expert and one of the most encouraging, positive people we know. His strategies are simple, uplifting, and make you feel like a million bucks.
Small Steps For Big Results.
Each lesson includes a simple exercise to help you start making those small changes that can have a big impact on your style and the rest of your life.
7 Days of Original Content.
All lesson materials were developed specifically for this course, with today's hectic lifestyle in mind. Each lesson is short enough to fit into even a packed schedule, but long enough to really help you start making real changes in your life.
More about Carson Kressley
Carson Kressley is an award-winning fashion and television personality best known for his role on Bravo's hit reality television show, "Queer Eye For The Straight Guy." The popular series earned Kressley a primetime Emmy and launched his career as a celebrity stylist, fashion designer, author, actor, expert, and philanthropist. Over the course of his two-decade career, he's been a regular style contributor on "Good Morning America," "Live With Kelly!", "The Oprah Winfrey Show," E! Entertainment, and has appeared on the red carpet for the Oscars and the Golden Globes. He hosted Lifetime's critically acclaimed "How To Look Good Naked," and in 2011 starred as the motivational host of "Carson-Nation," a one-hour makeover reality show for The Oprah Winfrey Network (OWN). Kressley created his signature men and women's clothing line for QVC as well as a women's sportswear and accessories collection for Shop NBC. In addition to being the fan favorite on Season 13 of "Dancing With The Stars," he has been a celebrity judge for The Miss Universe pageant and appeared in several films. Kressley is the author of Off The Cuff: The Essential Style Guide For Men And The Women Who Love Them and You're Different and That's Super, a children's story based on the classic tale The Ugly Duckling, as well as being the co-author of the New York Times bestseller, Queer Eye for the Straight Guy: The Fab Five's Guide to Looking Better, Cooking Better, Dressing Better, Behaving Better, and Living Better. He lives in New York City. [Awesome photo of Carson by Rainer Hosch.]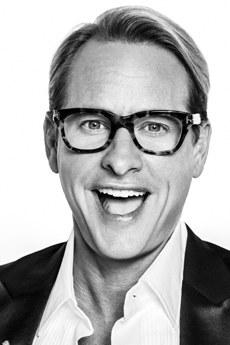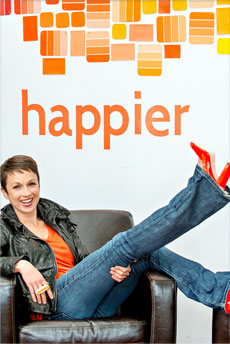 About Nataly and Happier...
Nataly Kogan is the founder and CEO of Happier, a life appreciation platform to help you live life more awesome. Happier's mobile app has been used by hundreds of thousands of people to become happier, less stressed, and more optimistic. Nataly has been featured in the New York Times, Fortune, New York Magazine, Time, and many others and is a sought out speaker and expert on happiness.
Nataly immigrated to the US with her family when she was 13 years old and learned firsthand that it's possible to find small happy moments in even the most difficult of circumstances. She created Happier to help inspire millions of people to stop saying "I'll be happy when…" and start saying "I am happier now because."